The Trophy Hunting Philosophy at Saskatchewan Big Buck Adventures
Thank you for taking the time to read about our trophy hunting philosophy. We firmly believe that most hunters coming to Canada are after a lifetime trophy.
It is our goal to produce that animal for you. Therefore we want our hunters to share our ideas. As a result, we've created the best odds at the trophy animal of your dreams.
Saskatchewan is World Famous For Its Trophy Whitetails
At Saskatchewan Big Buck Adventures, we offer a trophy hunting experience rivaled by few. We take our deer hunting very seriously! Our goal is to provide you with the trophy animal of a lifetime.
Click here to read about our guided trophy whitetail deer hunts.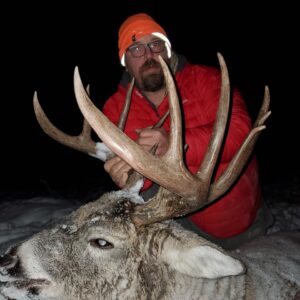 We realize that not everyone who hunts Canada has taken a giant Whitetail previously. Most hunters have never killed a buck that scores over 140 inches. Therefore, we want to work with you to shoot the right animal. Our goal is to send you home with the biggest antlered buck of your life! When properly pursued, trophy hunting will offer an incredibly personal experience.
Click here to see prices for guided whitetail deer hunts.
Trophy Hunting The North Woods Wilderness is an Adventure of a Lifetime!
We consider a true trophy whitetail to have a minimum of 140 inches of antler. Unfortunately, some of our bucks have such massive bodies that it makes their antlers appear smaller than they are. We spend time with each hunter and look over trail camera photos. You will learn how to field judge and score a buck on the hoof and age them properly. Finally, we'll explain which bucks we would like to place off-limits and hold for another year.

Tiffany Wiebe recently killed Canada's record non-typical taken by a female hunter. See photos and read this amazing story by clicking HERE.
We try to protect our younger bucks, especially those with superior qualities. These deer need to grow, and we want to save them for hunting after maturity. Giant Whitetails are an extraordinary animal and are a rare trophy even in the best areas. We want to ensure we have as many in our hunting area as possible. Thus we encourage selective harvest. We do this by helping our hunters identify which bucks are available. You will also identify which bucks we prefer to see grow for another year or two. Doing this ensures that tomorrow's trophies are always within our area. But even more important, we want your Canadian whitetail hunt to be of the highest quality. Our goal is to give you the best possible odds for taking a true north woods legend!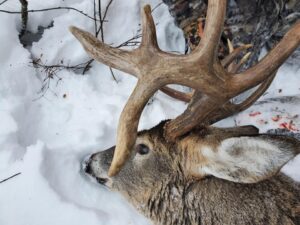 Our Trophy Hunting Philosophy Produces Giant Bucks!
When you hunt with Saskatchewan Big Buck Adventures, you will see and understand the potential and importance of encouraging the selective harvest of bucks.
We monitor our entire area with trail cameras; as a result, this allows us to maintain a buck inventory list. From there, we analyze thousands of photos, searching for those two, three, and four-year-old bucks that show outstanding potential. We then hold these deer for future years. These are the bucks that often turn into unique trophies. This is how we ensure our future. This is how we ensure you have a trophy to hunt for next year.
Hence, we don't want you here for just one year; we want you here every year. Having you know what giant Whitetail may step before you on your return trip, we're confident you will eagerly become a repeat customer.
Trophy hunting is very intensive when waiting for a particular buck. Any deer you see may be the one. Every sound kicks your heart into overdrive. The adrenaline pounds in your ears! There is nothing like it on Earth! Those ten or fifteen-second encounters culminate from a year of hard work.
Wrapping our hands around a massive chocolate beam is the goal of every hunter. With patience and cooperation, you can achieve your trophy goals every year.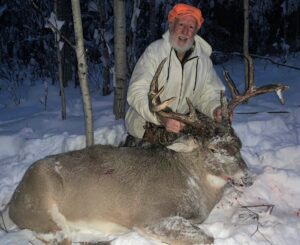 We may not be your outfitter if it's only about killing a deer. One hunter in 2019 counted 79 buck sightings during his five-day hunt, but he chose to go home with his tag in his pocket! Now that's a severe trophy hunting mentality! Similarly, if you are serious about putting your greatest Whitetail on your wall, or better yet, several of them, you better call us ASAP. Prime rut hunting dates always fill early. You can book your hunt for this year or place your deposit for a future season. Either way, we will have the type of bucks you hope to find on your Saskatchewan adventure.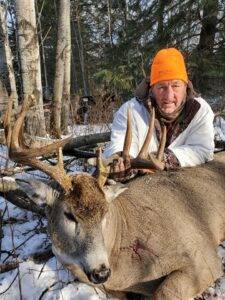 Book Your Hunt Today; Available Spots Go Fast!
Smart Outfitters will not over-hunt their area or over-harvest their crop of young bucks. This philosophy is fundamental to trophy hunting. It not only ensures us a quality business, but it ensures you, the hunter, a quality hunting experience.
When you book your hunt with Saskatchewan Big Buck Adventures, your Canadian trophy hunting dreams have become much closer to being a reality!