Saskatchewan Big Buck Adventures, Where Trophy Whitetail Dreams Become a Reality!
Welcome to Saskatchewan Big Buck Adventures, Canada's premier Trophy Whitetail Outfitter. We aim to make your trophy dreams a reality!
OUR APPROACH
Our goal is to become the best trophy Whitetail Outfitter in the industry. We believe that goals come from within; As a result, we strive to achieve them and work towards them daily.
Most noteworthy, we firmly believe that hard work and dedication are especially relevant to our success.
Saskatchewan Big Buck Adventures is considered one of the industry's best whitetail outfitters. Therefore, our trophy standards are set very high!
Our business practice is straightforward. We will do whatever it takes, within the legalities of the law and proper ethics, to provide every hunter with the hunt of a lifetime!
Consequently, we are ready and willing to work our tails off for you! We encourage you to check each page of our site. Our philosophy and beliefs are in our words, actions, and success. As a serious trophy hunter, we're confident that you agree with our approach. And please, feel free to contact us with any questions or concerns.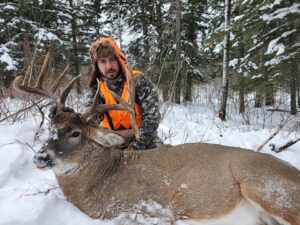 OUR HUNTING GROUND, A TROPHY WHITETAIL PARADISE!
As they say, it's all about location, location, location! The two camps we operate are in the heart of GIANT Whitetail country. Our trophy deer hunting occurs within 157,000 acres of forest-farmland fringe in some of North America's best big buck hunting lands! Saskatchewan is known for producing bucks that are far above average trophy size!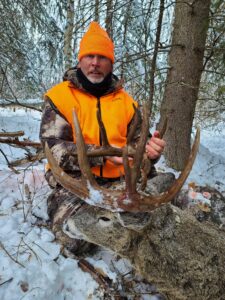 Consequently, combining incredible territory with knowledgeable guides allows us to expect great things to happen! Our guided trophy Whitetail hunts are world-famous, making us one of the most sought-after Canadian Outfitters in the business.!
Click HERE to subscribe to Canada's best deer hunting magazine.
We only hire trophy whitetail experts to be our guides!
Especially relevant, our guides are more than accomplished trophy whitetail hunters. We carefully choose our guides for their Whitetail knowledge and work ethic. We take our guided trophy whitetail hunts very seriously. Furthermore, we expect the same from our guides! Our guides are early starters and spend most of the day monitoring deer activity and checking trail cameras.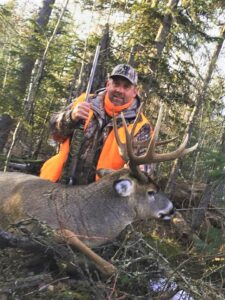 If something changes within our territory, our guides know about it first. If a new buck enters our region, our guides know about it. Above all matters, our guides are interactive within our territory. Therefore, they know our hunting area very well. As a result, this ensures that your hunt, and the decisions made within, are based upon the most current mature buck movement!
OUR LODGE
You'll need great accommodations to become the best Whitetail Outfitter in Canada. Our lodge is the heart of our operation because it fronts our hunting area. It boasts a lake cabin ambiance with a spacious kitchen, lounging area, 12 bedrooms, and four bathrooms.
Most Importantly, all hunters receive a private bedroom! Also, our delicious meals will keep you warm, energized, and alert while on the stand.