Saskatchewan Deer Hunts With Saskatchewan Big Buck Adventures, Your Source for a Trophy Whitetail of a Lifetime!
Saskatchewan deer hunts are the epitome of all trophy deer hunting! And Saskatchewan Big Buck Adventures is your source for the trophy whitetail of a lifetime!
Saskatchewan deer hunting is once again as popular as it ever has been. What serious trophy whitetail hunter doesn't dream about the huge-bodied, chocolate-antlered bucks from the north? Deer hunting in Saskatchewan was hit very hard due to bad winters. Now we've experienced several years of mild winters. As a result, those huge antlered bucks that made Saskatchewan legendary; they're back!
To book your hunt today, call Ryley at 306-549-7501. Or email [email protected]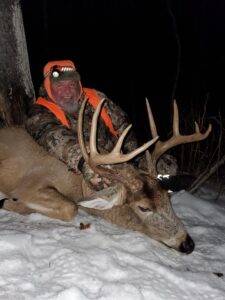 Click here to see a monster set of whitetail sheds found near our area.
You're Booking Your Hunt with One of the Best Outfitters in Saskatchewan!
Very few Saskatchewan Outfitters can produce the quality found with Saskatchewan Big Buck Adventures. When hunters consider what makes for a great hunt, the quality of the game is of first and foremost importance.
We are located within some of the greatest big-buck habitats known to exist. Consequently, we have the genetics and the perfect habitat to produce giant antlered deer! Besides, our area will see very little hunting pressure, ensuring that most of our bucks will reach maturity!
We encourage you to read our Trophy Philosophy page. We are sure you will agree with our ideas. Those ideals made us one of the most recommended Outfitters in Canada!
You can book your trophy whitetail hunt today by calling Ryley at 306-549-7501. Or send an email to [email protected]
We take care of our deer herd and monitor it year-round. As a result, we know the home territory of the biggest bucks within our area. Therefore we have strategically located our bait sites to take advantage of a particular buck's core area. This is no easy task considering our territory covers 157,000 acres of prime forest fringe habitat!
Our Saskatchewan Deer Hunts Offer Unlimited Trophy Potential!
We believe in the concept of letting the young bucks grow to maturity. Watching a young buck grow into a true monster is one of our greatest rewards. Those mature bucks become the dreams of future trophy hunters. They are also the future of our business, and they are what you have come to Saskatchewan to hunt.
We adhere to the best herd management practices possible. Furthermore, we maintain mineral and salt licks year-round to meet maximum nutritional needs. We work hard to ensure our bucks have everything needed to develop their fullest potential.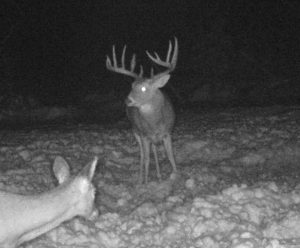 We'll Make Your Hunt as Comfortable as Possible!
Deer hunting in Saskatchewan can be very challenging. It's common for our deer hunts to see cold temperatures and harsh weather conditions. As a result of our weather, we have taken a proactive approach to ensure your comfort. We want you to enjoy a full day on the stand. Most noteworthy, we keep you out of the elements by utilizing enclosed stands. Also, if needed, we will provide portable heaters to keep you warm.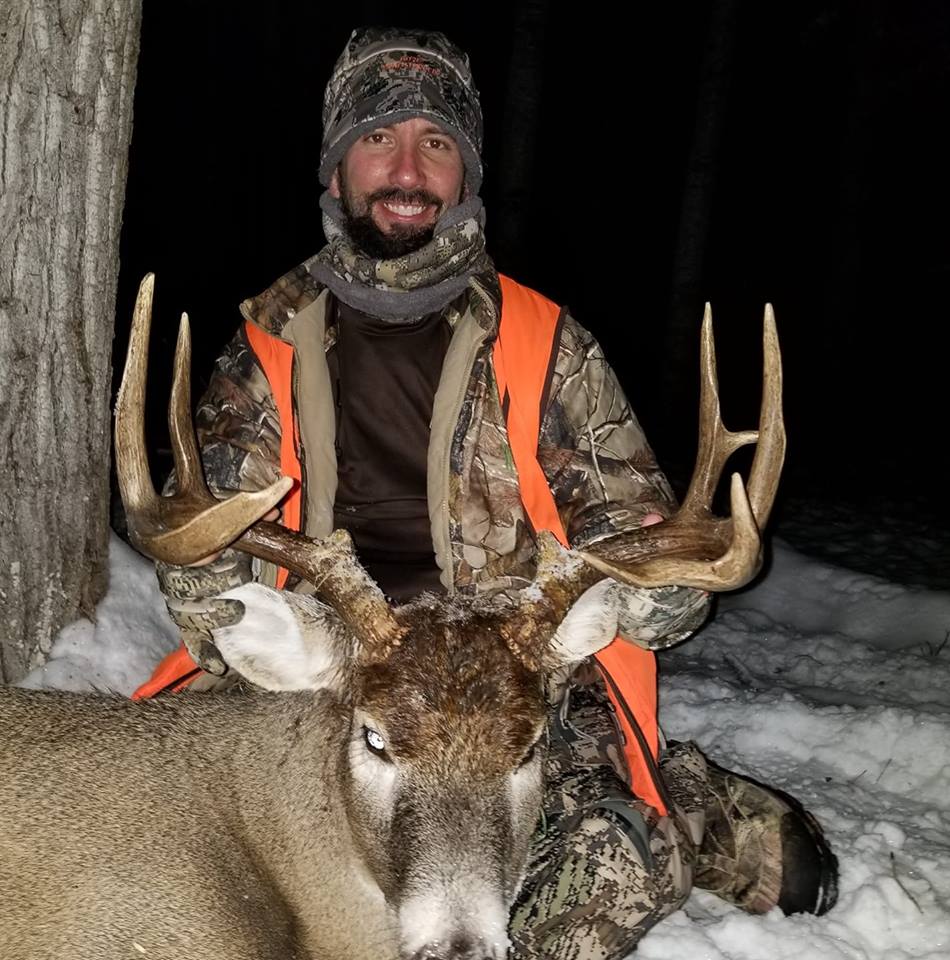 Check The Price Of Our Saskatchewan Deer Hunts!
We know you work hard for your money and want the best odds for a trophy whitetail. We realize that Saskatchewan deer hunts are not cheap. Therefore, we have priced our Saskatchewan deer hunts very competitively.
Furthermore, we offer everything needed to take the whitetail of your dreams! As a result, we have included the cost of a license, taxes, meals, lodging, trophy preparation, and all transportation while hunting in the price. There are no hidden costs or extra fees involved.
High-powered Rifle, Muzzleloader, and Archery hunts are offered on a limited basis, and spots fill up early. We encourage anyone interested to book your hunt as early as possible to ensure the availability of prime dates.
We encourage all those interested in Saskatchewan deer hunting to book your trophy whitetail hunt today. Call Ryley at 306-549-7501. Or send an email to [email protected]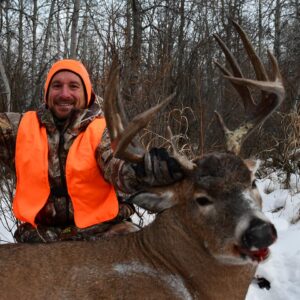 We have scheduled our Saskatchewan deer hunts to be five days in duration. They begin Monday morning and finish the following Friday evening.
All hunting dates require a $2500.00 deposit for deer and $2000.00 for bears.
Your hunt will not be considered scheduled until a deposit is received.
Click here to see prices for our Saskatchewan whitetail hunts.
Contact Saskatchewan Big Buck Adventures Today!
Thank you for considering Saskatchewan Big Buck Adventures for your next trophy whitetail adventure. Our goal is to provide each hunter with the trip of a lifetime. We cannot promise everyone a trophy whitetail. Hence, we promise to do everything within our legal and ethical means to make your hunt successful. Rest assured that our priority is your success!
Your trophy whitetail of a lifetime is waiting for you in Saskatchewan. Contact us today to schedule your future dream hunt. Call Ryley at 306-549-7501. Or send an email to [email protected]
We hope you have enjoyed our site, and thank you for visiting. Thank you for considering Saskatchewan Big Buck Adventures for future trophy whitetail hunting adventures.
Contact us today and book one of the best Saskatchewan deer hunts anyone offers!