Welcome to Saskatchewan Big Buck Adventures, a top destination for serious trophy whitetail hunters!
Saskatchewan Big Buck Adventures is where your trophy dreams become a reality!
Canada is known worldwide as being the go-to location for world-class whitetails. Serious trophy whitetail hunters highly desire the chocolate-antlered bucks of the northern wilderness. Your odds of taking a true giant whitetail are increased by hunting prime areas. Saskatchewan Big Buck Adventures is centered in North America's most prized big buck location!
Most importantly, we know how to hunt trophy whitetails!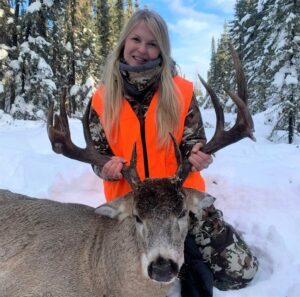 Booking your trophy hunt with Saskatchewan Big Buck Adventures will ensure you are hunting with one of Canada's best Outfitters.
Ensuring a successful hunt requires hard work and year around vigilance. Our hunting success has become legendary. This is because of daily surveillance within our territory. As a result of this dedication, our whitetail hunts are second to none.
To see Canada's widest recorded whitetail, click here.
Saskatchewan Big Buck Adventures offers Spring Black Bear and Fall Whitetail packages.
We also provide some of the best trophy black bear hunting that can be offered anywhere. Low hunting pressure means big bears. Also, we have a good percentage of color phase bears.
Look at our price list for the different packages we have available. You can click here to see our price list and the various opportunities that we offer.
Saskatchewan Big Buck Adventures is one of Canada's premier outfitters for trophy-class whitetails and black bears. We aim to ensure that every hunter experiences the hunt of a lifetime. It's especially relevant to us that we provide the best experience possible.
Because the odds of success increase substantially due to having the same goal, sharing mutual goals with hunters is paramount to our success.
We offer a comfortable and spacious camp where every hunter has a private room. Our daily meals are filling and delicious.
Controlled access to our hunting area ensures we have privacy and tranquility. Our hunting area sees virtually no disturbance outside of our everyday activities. All we need is you!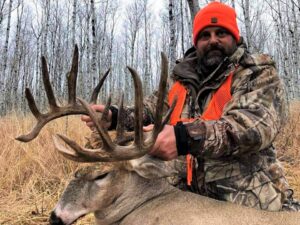 For your trophy of a lifetime, hunt with Saskatchewan Big Buck Adventures!
We pride ourselves on delivering results! No matter your desired pursuit, we will always emphasize our work ethic and goals. We will do whatever it takes, within the law and good ethics, to get you a chance at the trophy of your dreams!
Hard work alone does not equate to being successful. Consistent success on trophy class animals comes from knowing the game and the land. That's why we have hired the best guides available. Our guides spend the day in the bush, watching and learning the activities of our game animals. The only way to gain this knowledge is to spend time in the bush. It's a prerequisite of our guides that we don't take for granted.
Let us know what you are looking for
We encourage you to take a look around our site. Click here to check our competitive pricing. We invite you to check out all the pages. Read about our trophy philosophy and why it's important for both of us.
And please, feel free to contact us with any questions or concerns you may have regarding our trophy hunts. We love talking about trophy whitetails, and we can share a bear story or two as well.
We look forward to sharing with you what makes us tick. That which keeps us awake at night or that which fills our dreams. We share the same ideals as any serious trophy hunter.
Contact us today, and let's begin the conversation about you and your trophy desires. Whether your desires include a big bear or a trophy whitetail, Saskatchewan Big Buck Adventures is the place to be.