Trophy Black Bear Hunts With Saskatchewan Big Buck Adventures
We love hunting trophy black bear!
At Saskatchewan Big Buck Adventures, we offer guided Spring black bear hunts. Whether you prefer spring or fall hunting, we can accommodate your preference. Whether you hunt a monster Black Bear or join us for one of our trophy Whitetail hunts, we will ensure you have the experience of a lifetime!
Our spring hunt for Black Bear is great for escaping everyday life's noise. A hunt where you can relax and hang out while enjoying the peace and serenity of a wilderness camp. Or, if you wish, you can tag along with the guides as they do their morning activities in the bush. This is a great way to see our hunting area and a great opportunity to photograph some wildlife. We'll be sure you get plenty of daily hunting time, and our black bear goals are still a priority no matter how much or how little you decide to hunt.
Click here to see our price guide.
BOOK YOUR TROPHY BLACK BEAR HUNT TODAY WITH SASKATCHEWAN BIG BUCK ADVENTURES!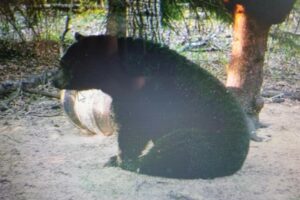 Click here to see one of the largest black bears ever recorded in Canada.
But wait, there's more! A large percentage of our area has never been hunted for bears! It's been nearly ten years since any part of our area has seen any bear hunting. It's virgin territory when it comes to bear hunting!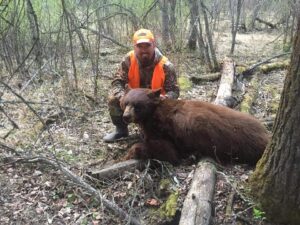 YOUR TROPHY BLACK BEAR IS WAITING; CONTACT SASKATCHEWAN BIG BUCK ADVENTURES TODAY!
We do have giant bears in our area! However, as with any trophy hunt, the size of the bear harvested depends on our hunters' ideals. We encourage all bear hunters to hold out for a true giant. We guarantee active baits! One of our goals is to challenge your patience and temptations daily.
Seeing plenty of bears will not be a question. We only hunt the most active baits. Our guides monitor our baits daily through the use of trail cameras. We check baits on a daily basis; this keeps us on the best activity at all times. We know where the biggest bears are located and any color phase bears in the area. Once we put you on a stand, you can rest assured there will be at least one, if not multiple, big black bear in that area!
We take archery, rifle, and muzzleloader hunters for our bear hunts.
Saskatchewan Big Buck Adventures, where your trophy Black Bear dreams become a reality!
CONTACT SASKATCHEWAN BIG BUCK ADVENTURES TODAY FOR YOUR NEXT TROPHY BLACK BEAR HUNT!