Hunting Accommodations Are Spacious and Comfortable! 
You'll need great hunting accommodations to become the best Whitetail Outfitter in Canada. Consequently, we provide our hunters with one of the most refined camp atmospheres in the hunting industry.
We firmly believe that providing comfortable hunting accommodations is especially relevant to the overall enjoyment of your hunt. Our lodge is the heart of our operation and fronts our hunting area. It boasts a lake cabin ambiance with plenty of room to stretch your legs. Also, the atmosphere and decor will inspire your trophy-hunting dreams!

Most noteworthy, we boast 12 spacious bedrooms and four bathrooms; best of all, every hunter gets a private room! Of course, we can house couples as well. For the husband and wife hunters, we have cozy double bedrooms with plenty of room for two.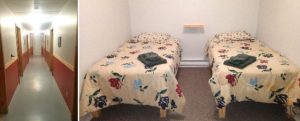 Relax, and Let Our Hunting Accommodations Inspire Your Trophy Dreams
Our hunting accommodations have beautiful trophy room decor and ambiance. You can let your imagination run wild with images of giant whitetails! We guarantee your trophy dreams begin right here.
(We highly recommend you stop and see the world-class whitetail display at Cabela's in Saskatoon.)
Several of the Whitetail deer mounts displayed throughout the lodge were acquired from within our hunting area. Also, the many giant whitetails adorning our rooms are from the same area you will be hunting in! After a long day on the stand, we promise our lodge and atmosphere will inspire you for the next hunt. We have made it easy for you to relax, unwind, and dream away!

The Best Meals an Outfitter Can Offer!
Another reason you will love our accommodations is that we serve delicious meals! Our hearty meals keep you warm, energized, and alert while on the stand. You can expect to eat very well. Also, our menu is often a delicacy of wild game! Elk and Moose are a staple in the Canadian north, and we are proud to share them with our friends. That's just part of our great hunting accommodations!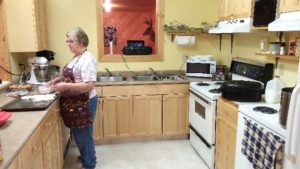 We plan to keep you full and content during your stay, and nobody will ever leave the table without enough to eat. Our carbohydrate-filled meals will help your body generate the heat needed to last an entire day on the stand during our cold-season hunts. Also, mid-day lunches are packed specifically to each hunter's desire.
We always have a top-notch, professional cook working throughout our hunting seasons. After all, we like to eat too!
Click here to contact us and book your hunt today!
In conclusion, we'll make you feel right at home! We promise the delicacies are limitless! And the hunting accommodations are always comfortable at Saskatchewan Big Buck Adventures.